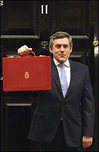 Last week Gordon Brown, the former chancellor,
declared himself
now open to changes in Scotland's funding arrangements. This was widely interpreted, not least
by John Swinney
, as movement on fiscal autonomy, but it wasn't anything of the sort. 
He actually said "
The Scottish Parliament is wholly accountable for the budget it spends, but not for the size of its budget. And that budget is not linked to the success of the Scottish economy.
"
What would it look like if the block grant were linked to the success of the Scottish economy? For these purposes let us pretend that growth in GDP is an comprehensive indicator of success.
If Scotland's economy shrank, the block grant would shrink in tandem. Poverty would increase, and the need for government funding would grow, yet Scotland would be given less money to fund the relevant services. Conversely, the less support Scotland needed, the more money would be provided. 
Let's imagine, though, with their limited economic levers, that Salmond and Swinney manage to engineer some localised Irish-style flim-flam boomlet that didn't spill over into Cumbria and Northumberland. Would UK tax revenues then really be diverted north of the border in massive amounts? Unlikely.
This is a long way from fiscal autonomy, which is the right to raise taxes as the Scottish Parliament sees fit. It's more like performance-related pay.
And because the most important economic powers haven't been devolved, Scotland's budget would be even more directly dependent on the vagaries of economic policy largely set in Whitehall. 
Brown's quote could be extended: "And the success or failure of Scotland's economy is not linked to the powers of the Scottish Parliament." But that would take him places he doesn't want to go.