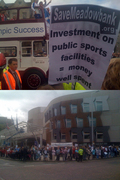 The bus brought Scotland's successful Olympic medal winners down past Parliament today, and everyone was there, the Save Meadowbank protesters, the general public who took Save Meadowbank placards in large numbers, the media, and politicians like Tavish Scott, whose Liberal colleagues in Edinburgh are behind the demolition alongside their SNP partners.
Some
of the media picked up that this was the big story. Others
buried
it or ignored it
altogether
. At least I didn't see Jenny Dawe or Steve Cardownie, the prime suspects in the Case of the Missing Cycle Track, lording it up on the bus. That would probably have led to an egging. Or at least to a lot of angry bicycle-bell-ringing.