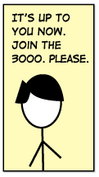 Meet Sean Tevis (left), from Kansas, who got depressed and annoyed that his local representative is anti-gay, anti-abortion and pro-censorship. Then he decided to run for office himself instead. Someone told him he needed fifty-two people to donate $500 to get a campaign together, but he reckoned three thousand people giving $8.34 was more likely.
Sean's a web dork, and a fan of
xkcd
, a surprisingly funny stick-person comic, and the web bit of
his campaign
looks like 
this
.  Then it got
discussed
on my favourite website, which it turns out he's a member of. And he's waaay over his three thousand donors. Well done internets. Bring on the actual election.