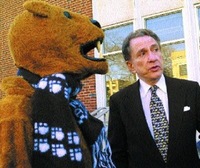 Those of you still missing the drama of the US election season, head back over to your favourite sources and follow
the switch of Arlen Specter to the Democrats
. 
What difference might his new party affiliation make? Nate Silver at 538 does what he does best -
numbercrunching
, while Wonkette has the
top headline
 (plus the pic).
Politico on the
demise of the Republicans
 is also recommended if you like that sort of thing, and there's Metafilter for
smart discussion
.
Remember, it's just 552 days to those crucial mid-terms. Going back to 538, there's definitely a gap in the UK market for some good statistical wonkery (aside, of course, from betting analysis, which is
definitely covered
). Anyone?