It's a source of some despair to me that an increasing proportion of our news is just rehashed anniversaries. Nevertheless, I do want to mark a barnstorming speech given 100 years ago today in Glasgow by
Lord Rosebery
, the former Liberal Prime Minister.
He addressed "the business men of the city", and I have a copy of the speech in pamphlet form. Apparently over 6,000 applied to attend, and he was warmly received. But they would say that, wouldn't they?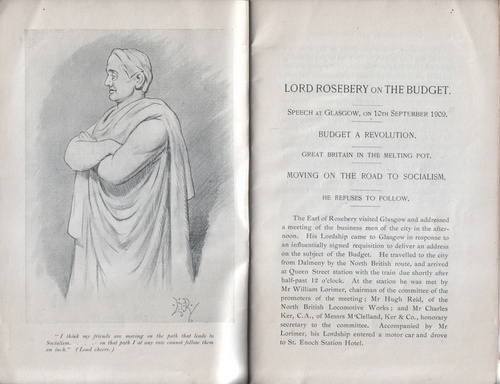 Rosebery had gradually become estranged from his former colleagues, and indeed told the assembled gathering: "I have long ceased to be in communion with the Liberal party".
This was no exaggeration - the purpose of his visit was a full-frontal assault on the "
People's Budget
" presented by his former colleague Lloyd George, and specifically a critique of the Land Value Tax and Inheritance Tax proposals contained in it.
His language is intemperate, even if Edwardian English sounds so polite, and his anger is clear. Land Value Tax is described as "the violent onslaught on land", presumably making income tax a violent onslaught on work, and so.
He also claims that "
almost all the value of land comes from what the owner does or spends on it
", which is misleading in the extreme. It's presumably no coincidence that
the richest person
ever to be Prime Minister, the owner of twelve homes, would find much here to dislike.
And this bitter assault was surely nothing more prinicipled than the resistance of a substantial landowner to anything approximating social justice in taxation. He talks about the "persecution of land", neatly conflating the owner and his property. Was the land itself really to be hunted and punished?
The Lords did vote the People's Budget down, leading to a constitutional crisis and an election at which Lloyd George was returned with a reduced majority. The Budget then went through, but without its land value tax element, and the powers of the House of Lords were trimmed by the first of the 20th century's
Parliament Acts
. Rosebery had done his bit, though, on land value tax.
A hundred years later and it's back on the agenda, with
Compass
and the
IRRV
both taking a look, although the Greens are now the only party to support a version of Lloyd George's proposals (with some notable exceptions, including
Labour Land
&
Lib Dems ALTER
). SNP MSP Rob Gibson is
also a supporter
.
Sooner or later, the shade of Rosebery and his peers will have to be lifted. It's hard, however, to take too vehement a personal dislike to a man who can send this self-deprecating telegram to the pamphlet's publisher.