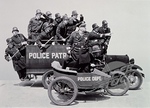 Whatever the police should be doing,
it's not this
: trying to bribe environmentalists with secret bank accounts (clue: it usually won't work, we're pretty committed), threaten their job prospects, suggest they'll be sent to brutal violent prisons and generally intimidate them.
Campaigners against climate change aren't terrorists, they aren't extremists, and they're more clever than the plod (which is why the Guardian have
the tapes
). 
It'd be funny if it wasn't so sinister, and it's got to stop. Imagine activists trying to bribe, infiltrate and intimidate the police. And that wouldn't even be public money for the bribes.
I don't have it in for the police, I really don't. I can only give a 100% endorsement to the
Chicken Yoghurt view
on this.