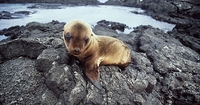 It sounds like tree-hugging taken to the next level - rights for forests, rivers, and even air? 
Yet this
constitutional proposal
before the Ecuadorian people promises exactly that (
detailed wording here
), to help Ecuador take on the multinationals who currently use the rivers as open sewers for their industrial waste, amongst other egregious behaviour.
Ecuador has extraordinary natural riches to protect, including the various iconic inhabitants of Galapagos (like the sealion cub pictured above). Constitutional rights might not be the most immediately obvious way to deliver those protections, but it's an interesting idea, and I hope we get a chance to see how well it works.