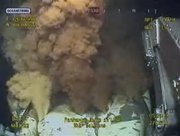 Oil from BP's blunder keeps pumping into the Gulf of Mexico, causing
all sorts
of
collateral damage
, and there's no prospect of it ending soon. It clearly illustrates the direct risks from oil drilling as locations get more extreme, and it matters to Scotland.
Anyone in their right mind looking at the risks and long-term viability of various energy sources surely has to conclude it's time to start phasing oil out altogether and switching to renewables. That's relatively easy for power generation and demand reduction while admittedly harder for transport, but there are some enormous opportunities
going untaken
.
American Presidents from
Reagan onwards
have been committed to empty rhetoric on oil, and have an
abject history of failure
. They bear the responsibility for the disaster unfolding endlessly in the Gulf of Mexico, along with BP, just as government after government here will do if and when something like this comes to our shores.