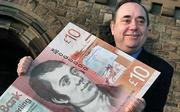 Should MSPs should use Parliament's restaurant to raise party funds? The answer's clear if it's for an average backbencher.
Add access to your actual First Minister and his Deputy in Parliament as a fundraiser for the SNP's Westminster campaign in Glasgow Central and this story turns from a one-day wonder into a serious problem for the SNP.
So chef's hats off to the Herald for lifting the lid on this one. But let's hear the other side. The Herald
today has a piece on the subject
which, alongside the scoffing of the other parties, us included, contains the core of three dubious lines of argument the SNP are trying to use to exonerate their top table.
For starters, the rules say Parliamentary resources must not be misused. Because meals at Parliament's restaurant have to be paid for it's therefore not a Parliamentary resource, the SNP claim. Here's a clue. It's in Parliament, and if it wasn't there the place'd be awfully draughty. You can't get into it unless you're with an MSP or with staff working at Holyrood. It's subsidised by the taxpayer. Take that one back to the kitchen.
Next, the course of the main defence runs like this: the auction itself took place elsewhere, so the prize itself can't be "a significant political party purpose". Try that logic with a previous scandal and see if you can swallow it. "Sure, the questions were asked in the Commons, but it's fine because I received the money in the Harrods carpark."
Finally, a spokesman for the great puddin' o' the chieftain-race says it wasn't wrong because the lunch hadn't actually happened when they got caught. We planned to break the rules, the excuse goes, but fortunately the Herald and the Corporate Body have saved us from ourselves. Again, like taking cash for questions but being grilled about it before the questions could be tabled.
I'm sure Kevin Pringle's manual for situations like this says "use every effort to make it look like the guidelines are unclear", yet the truth is otherwise. The "campus", which is the whole Holyrood complex, can only be used for "
events relating to a member's parliamentary duties
". Despite the
substantial public funding the First Minister has provided to Osama Saeed's organisation
, it's clear that getting him elected to Westminster is not one of the ways Salmond serves his constituents.