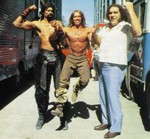 The gap between the SNP's 2007 manifesto and their achievements is a rich seam of opposition taunts for Alex Salmond. It even inspired the LOLITSP to do a notorious impersonation of Andre the Giant (pictured left carrying the Governator) and
tear up said manifesto at FMQs
.
Some of this is fair game. The Scottish Futures Trust was meant to be an alternative to the bonkers PPP/PFI approach shared by Labour and the Tories, and Scottish Government bonds would have been a good way to deliver that. Except that
the Scotland Act doesn't permit it
. And the SNP really ought to have done their homework on that in advance.
Some of the flak, though, like the Local Income Tax element and the forthcoming referendum round, is simply ridiculous. The Nats are a minority administration. They need the support of Labour or any two other parties to make a majority. Labour opposed LIT, as did we, so they sound absurd when they complain that the SNP never delivered it. It'd be like us complaining that they've not built the Aberdeen Western Peripheral.
My view is this. If SNP Ministers try to get stuff done that we oppose, we'll criticise them and try to find others who share our position to work with. We certainly won't call it a broken promise if the bad stuff doesn't happen. When the SNP come forward with proposals we can back, we'll try to help them get it done. Why is that so complicated?
Thanks to
Malc
for the inspiration for this post. Get a blog, mate!