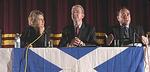 The focus of the Holyrood media pack's attention today and tomorrow is on the
demotion of Fiona Hyslop
from Education to Culture, but that's not the curious part of this mini-reshuffle.
It might seem a clear jobswap with Mike Russell, but actually he too has been demoted, perhaps for carelessness in his private office.
Unusually, I like Mike. I hold a high opinion of him, although not necessarily as high as he does of himself. But until today he was Minister For Making Scotland Independent as well as Minister For Tartan and Homecoming. Fiona Hyslop goes to a Culture Ministry stripped of that first role, which has gone instead to the Maximum Eck himself.
It couldn't be clearer. The job of Chief Cheerleader For Independence is what made Mike's old job so central. The constitution might be a side-issue to most Scots, but not for the Nats. As it was, it was like being Minister for the Environment in a Green government, or Minister for Privatisation in a Tory administration.
Reshuffles, like Newtonian physics, are a zero-sum game. The profile and the importance have gone somewhere, taken away from the underlings. In keeping with tradition, Salmond's promoted himself.