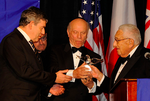 There's
another blogawardfest in the offing
, courtesy of the Scottish Roundup gang, of whom I am but a generally sleeping partner.
I'm on the panel, though - there will be a panel vote and a readers' vote, but no union block vote - so I think it might be best to state now that if kindly nominated, I will decline. For real.
My personal hope for these awards is to find some new or largely unnoticed quality writing to fill the gaps in my RSS reader left by the demise of
Wardog
some
great
blogs
, and for the "scene" to be strengthened with some new blood. Longer term, I think Scotland's political bloggers, collectively, should consider aiming at
some more ambitious joint projects
. This could be a great first step, and an enormous thank-you to the tireless Duncan Stephen for organising it.