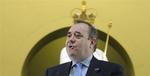 The demise of the proposed Kingsnorth coal power station,
announced last night by E:ON
, was greeted with
jubilation
by
Greens
and
other environmental activists
. E:ON can now get back to their core business of
protecting donkeys with solar powered fences
. For some reason a story about that makes it to their
media release archive
, while Kingsnorth is neglected.
The next scandalous project of this sort in our firing line, and opposed by others like
the RSPB
, is the new coal plant planned at Hunterston. The SNP sneaked it into the
National Planning Framework
(2Mb pdf) right at the last minute,
four months after the consultation closed
, and their Ministers claim the plant will be "carbon capture ready", which is about as reassuring as "don't worry darling, it's condom ready".
The local campaign against the new Hunterston project is
here
, and
STV did a good report
last month about their legal challenge to the NPF. I hope they win, but either way efforts to block it will continue.
NASA's James Hansen, the
father of climate science
, describes coal plants as
"factories of death"
, and Hunterston is now front and centre in the campaign to make sure no more are ever built in this country. The SNP are yet again on the wrong side in the carbon wars, and both King Coal and
King Alex
will have to be stopped.