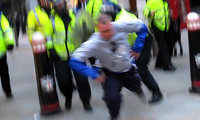 Five days ago I asked
a series of open questions
about the role of the police in the death of Ian Tomlinson during the G20 protests. Were they involved? Or even responsible? There was no evidence one way or the other, but few were even asking the questions.
The Guardian has now been given footage
, provided by a fund manager, not a protester, which
shows
him being struck by a baton and then brutally shoved to the ground. 
A freelance photographer gave this account:
"
It was the force of the impact. He bounced on the floor. It was a very forceful knocking down from behind. The officer hit him twice with a baton when he was lying on the floor.
"
This may be less direct, less obvious, than the murder of 
Carlo Giuliani
at the 2001 G8 conference in Genoa, but it would be an extraordinary to imagine that the assault captured on camera was unrelated to his collapse just three minutes later and his death shortly thereafter.
Everyone has a camera in their pocket, most have a video camera, and the age when the police could pretend they were the victims in a situation like this is
over forever
. How long ago did the Met know the dead man had been thrown to the ground and beaten, given their obsession with filming every step we all take?
This death is the legacy of Brown's vanity summit, the true face of Labour's attitude to criticism, and the masks and balaclavas of the police that day were cover for real violence, not the cartoon violence of hyped-up pseudo-anarchists breaking a window for the cameras. This is a government like Berlusconi's own, a government which deserves to be hounded from power and tried for its crimes.