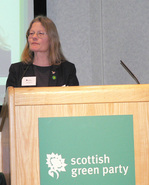 There are some excellent people amongst the 50 entries on the Green Heroes list, run by the SDC and the Scotsman, with the
final 10
being named at a very enjoyable "round up the usual suspects" event last night.
I was particularly proud to see my friend and party colleague Abbie Marland (left) in at number 4 (and, declaration of interest, yes, I did put her name forward). 
The aim of the list was to identify people who have inspired others, and she certainly does exactly that, having worked exceptionally hard on climate change, ecology and a range of community campaigns, notably on ship-to-ship oil transfer.
Funniest moment? My predecessor George Baxter accepted an award on behalf of his boss, who couldn't be there last night. As the Scotsman's snapper got with the Minister he was clearly heard to recommend just Photoshopping Ian Marchant into the picture. I'm sure
nothing could go wrong
with that approach.