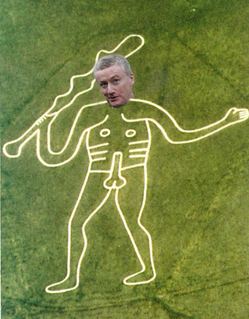 Today's reports
 that Not-Sir Fred Goodwin's house has been vandalised are upsetting. 
No-one wants to see mob rule, except perhaps the mob. Personally, I prefer democracy.
It's also absurd to blame one man, no matter how grasping, for the massive systemic problems supported and facilitated by Governments of all colours, north and south of the border.
Having said that, if one absolutely had to suggest a form of vandalism for his house, wouldn't 
Rory McInnes's approach
 have been a better idea? Or something similar? 
(note: I am also not encouraging vandalism of the Cerne Abbas Giant)