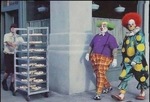 Gunk, pies and flans have a long and honourable history both as
entertainment
and
protest
, and surely we can all agree that if someone has to take custard in the face,
Peter Mandelson
isn't a bad choice.
To
those
who regard this kind of protest as silly or stupid, I'd simply ask if it's as stupid as his efforts to expand airports, nuclear power and coal plants. I'd also like to know what you're doing to try and stop him. 
Finally, it's good PR: the stunt automatically becomes
the picture
the media will use to cover his so-called low carbon summit, which was the tawdry
business-as-usual
affair one might expect. They'll then have to explain why there's opposition to him - there's hardly any in the Commons, after all.