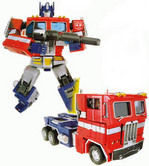 The Record
reports
Gordon Brown's latest moment of striking honesty on the radio. Apparently he wants to meet, or possibly hire, Optimus Prime, a Transformer and one of the weirdest sci-fi characters ever, half robot, half truck. 
A few quick thoughts. This makes Patrick's desire to be Doctor Who seem much more mundane. If Gordon's next book on heroism is about fictional sci-fi heroes, I might even buy it. Also, bear this in mind the next time you hear the PM talk about his plans to transform the economy.
The comment in the title is from a listener, and I wholeheartedly endorse it.