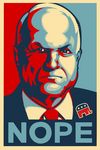 I wasn't going to write one of those identikit Obama blog posts that are currently clogging up the tubes of the internet, but here's one thought. 
Obviously, they need a fair election system - even alternative vote would make a huge difference - but personally I'm in the latter camp, and firmly so. 
The US Greens should be working to build local bases, targeting their best areas, running for lower offices, and in this case they should have given an caveated endorsement for Obama. One more Nader effect in a tight election could have killed the party entirely. Also, as Jim
points out
:
"
Unlike for the Democrats for them it's all about the top job, and I tell you, it takes something to be more hierarchical than the Democrats.
"
Now, of course, there's the "
yes I'm excited, but surely he'll let everyone down
" position, but the comparison with 1997 is poor. While Obama may disappoint, by 1997 I didn't know many people who were positively optimistic about Blair's Labour. Most were simply delighted to see the Tories crushed.