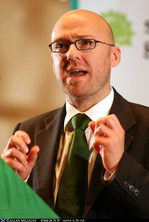 The
Times
and
Holyrood Magazine
 have two great interviews with Patrick out today. He's described in the first as "
the man to watch
", and Charlene Sweeney notes that "
in the next few months Mr Harvie will, more than ever, need the resolve that has propelled him to the top
". No problem there: I can reassure readers that Patrick is pretty much made of resolve..
Mandy Rhodes' much longer Holyrood interview is also worth a read. It quotes the Daily Mail's magnificently awful description of him from 2003: "
the voice of the irresponsible, left led, anti-family, anti-Christian, gay whales against the bomb coalition
". 
One of those occasions where it's hard to tell the Mail from the Mash parodies thereof, I reckon.