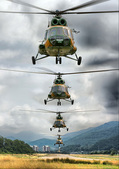 On Tuesday I went in Robin's place to a lunch organised by the Chamber of Commerce, addressed by
Hector Sant
of the Financial Services Authority. Oddly, given the interest you might have expected from the political parties, or even the Scottish Government, there was no-one else there from politics.
Mr Sant was an interesting speaker, although constrained as a regulator and unable to give very frank answers to many of the questions. In the case of a question about the need for HBOS to merge with Lloyds, the Scotsman
reports
him saying that:
..it was obvious the authority was "content with the capital being raised by HBOS"
.
Yes, he did say that, but then he went on to explain the circumstances under which that assessment had been made, i.e. on the assumption that the proposed merger would go ahead. 
I'm not taking a view on the merits of the tie-up, but the fact is there'll be annoyance at the FSA at how he's been misrepresented. Peter Jones has it more accurately
in the Times
 - see the second last paragraph - but that made for a far less newsworthy story.
It's not my usual crowd, bankers. Outside Prestonfield there was an ostentatious helicopter on the lawn (not Hector's, but we couldn't find out whose), and inside a man remarked to me how he felt left behind at a recent Bentley owners' club bash for not himself having a helicopter. I did feel very sorry to hear that someone might have to cope with such an extraordinary level of poverty.
Pleasingly, I also found myself sat next to a resident of Forth Ward, and gave her what I think was a well-received pitch for a vote for Kate Joester (informed by Kate's passionate address to the local party a couple of weeks ago).