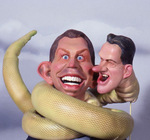 Peter Mandelson, New Labour's original turbulent priest, back in the Cabinet? The cursing of the Brown loyalists will be long and heart-felt - this is a bold move to say the least.
It's not just those resignations, either (
one
, passports for domes,
two
, loans for curtailing investigations). It's the years of hatred and mistrust. Eighteen months ago, as Gordon Brown was preparing to take office, Mandelson was forced to tell Brown that he
couldn't be sacked
by the Prime Minister-to-be from his EU Commissioner post. 
Just six months ago Brown
told him
he could stay on in the Commission, and while the Guardian claimed "they are getting it together again", no-one believed them. These two have been against each other 
since the time
 Mandelson backed Blair over Brown for the leadership, and there is no way this will be smooth. 
I wonder if the bookies have offered odds yet on his next resignation. I believe resigning from Cabinet three times would be an all-time record.