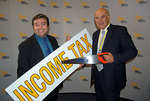 Vince Cable is clearly
over-lionised
, and
working
for
Shell
in 1995 was a
morally questionable choice
if you ask me. 
However, you have to admire his courage to put across potentially unpopular positions, such as: house price falls are "
painful, but necessary
". 
And the Stalin to Mr Bean thing was an 
excellent line
.
Today he's also
mulling over
a shift in Liberal policy from Local Income Tax. Nowhere in this piece is the actual policy rationale for such a shift set out, but no matter. If he does decide to swing the party that way, they'll apparently "defer a decision on their own policy until they have seen the implications of the SNP policy, and its feasibility". 
John Swinney'll be pretty annoyed to hear that, because he's expecting the Liberals to sit down and discuss LIT with him shortly, and they're the only semi-supportive voice for LIT in Holyrood. Unless, that is, you subscribe to the
conspiracy theory
that the Nats want their tax plans to fail in the Chamber so they can campaign against Council Tax again in 2011. Which isn't entirely implausible, although less likely if Labour do decide to be
constructive
.
However, the Cabinet Secretary should rest easy. Even though Cable is briefing the Guardian on the Scottish situation, he can probably only set federal policy. Which, in the looking-glass world of Liberal internal structures, only applies in England.