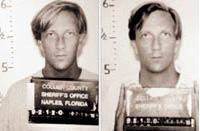 The Liberals' largest ever donor, Michael Brown, is
on the run
. He gave the party 
£2.4m
, which funded half of their entire 2005 campaign, but the money was dubious to say the least. 
Not because he wasn't registered as a UK voter, because the Electrical Commission
let them off
that particular offence - how jealous Scottish Labour must be. No, the problem was a serious 
allegation
 against Mr Brown of fraud against HSBC.
I'm sure he's not absconded, and that all this confusion will be cleared up shortly. Perhaps he's been
sent off
to campaign in some of the new Liberal target seats?