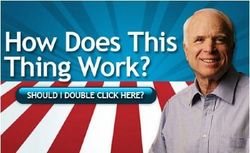 John McCain doesn't get on with technology. Anything more recent than the
A-4 Skyhawk
he got shot down in over Vietnam seems to be a problem.
The latest newfangled technologery to confuse him is the humble
teleprompter
, a vital part of any Republican campaign's arsenal since Reagan first gave a press conference during a nap.
As for computers, McCain
admits
to being "
an illiterate who has to rely on my wife for all the assistance I can get
". As Frank Rich put it in the New York Times (
article
, bypass registration
here
), "
Getting shot down over Vietnam may not be a qualification for president in 2008, but surely a rudimentary facility with a laptop is
". Quite.
I wonder if he's as IT-incompetent as Tony Blair, who,
the story goes
, used to leave tippex on the screen when trying to correct typos. Heaven help us if so, and if he gets elected.