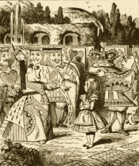 For some people who shall remain nameless, any opposition to the SNP is part of said conspiracy.
There have been occasions where SNP members have tried to use the term to include us, even though we're somewhat closer to them on the constitution than we are to Labour, the Liberals and the Tories.
But this conspiracy, it doesn't exist.
You can see the evidence today. Wendy's tortured donations saga rumbles on, and the Standards Committee
voted five to two against her
. The
Committee
has three Nats on it, two Labour members, one Liberal and one Tory. This means the non-Labour Unionishts backed the SNP and sent Wendy down.
Personally, I'm with the Queen of Hearts on this (no, not
that one
). Sentence first, verdict afterwards. Wendy's already been sentenced to having her credibility removed. This is just a verdict that recognises that.
The only surprising thing is that the SNP didn't decide to vote the other way and absolve her. Nothing could please them more than having to face Wendy in May 2011, although I don't know a single person who expects that to happen.